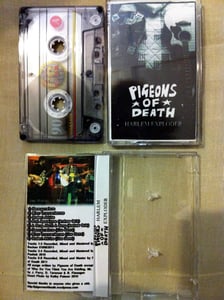 £

2.00
Our new Harlem Exploder EP is now available to own on glorious cassette! Listen to our awe-inspring new tunes through a fantastic hiss that only cassettes can provide!
Track list:
1. Necrogunwhore 02:56
2. Minor Inconveniences 04:43
3. Student Advice 03:40
4. Post Apocalypse (Andrew Solo) 03:12
5. A Song About A Song (Andrew Solo) 03:01
6. Necrogunwhore (Live Demo) 02:59
7. Minor Inconveniences (Live Demo) 04:27
8. Student Advice (Live Demo) 03:45
This release is strictly limited to 20 copies! Order now to avoid disappointment!
Released on 02/09/2011
http://pigeonsofdeath.wordpress.com